CLICK
CLICK mobile app is an ordering D2C app for CLICK Spray and CLICK Gummy products in California.
CLICK Spray is the cannabis mouth spray with a fine, light mist and perfectly balanced formula. On the other hand, CLICK Gummy is a potent gummy that gives a full-spectrum high with delicious taste.
Mobile App As A D2C Solution Implementing Shoutem's app features and Ginger delivery system
App Design & UX 🎨
– User flow – Wireframes – Visual Desing
App Development 📱
– User-oriented features – Easy journey – Effortless shopping
Scheduled Delivery 🛍️
– Intuitive cart – Straightforward ordering – Next day delivery
Welcome to CLICK
Shop
Login
Social Wall
Push Notification
Scheduled Delivery
Youtube
Blog
How did we make the CLICK app?
Process, features, and showcase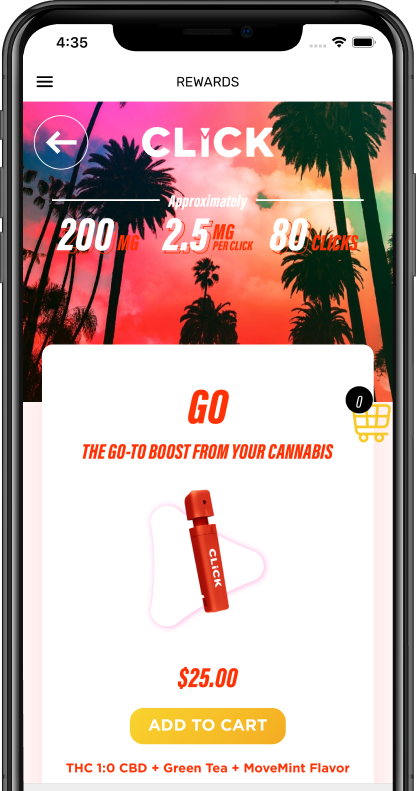 The task
The #1-selling cannabis mouth spray in California, CLICK, needed an app that would allow their loyal base to make ordering seamless, check their cart, connect with others with posts, likes and comments, watch Youtube videos, read blog articles and see CLICKs events – all from the palm of their hands.


What is CLICK?
CLICK Spray is a sublingual mouth spray and is consumed orally. But unlike tinctures, other sublinguals, or edibles, CLICK's NanoTechnology is used to create a supremely fast-acting formula with precise dosing.
CLICK Gummy is a potent gummy that gives a full-body, full-spectrum high, and also tastes amazing. ⁠ It's made with all-natural ingredients and high quality live rossin (and they also offer a separate and different product that uses different inputs) cannabis oil to provide an amazing experience when compared to other gummies.⁠
What can a user expect from CLICK?
What are the main features of the CLICK mobile app?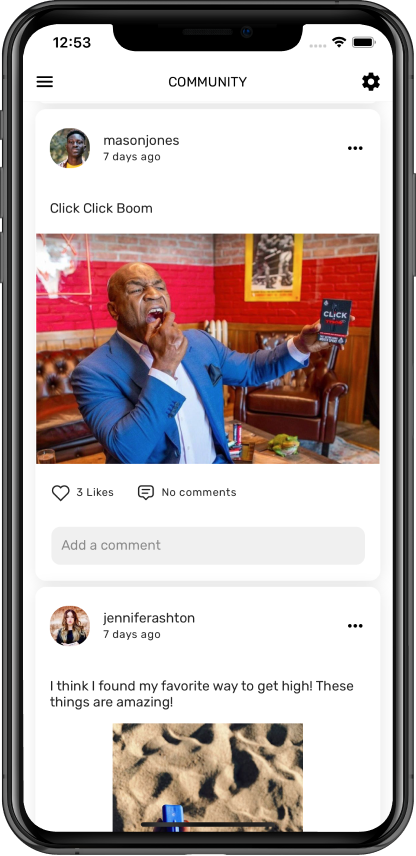 Login

Email and password login, setting up an account

Shop

Product categorization, information, and seamless ordering

Social Feed

Sharing experience through posting images, likes, and comments

Youtube

Displaying videos from the official Click Youtube channel

Blog

Listing blog articles from the website

Events

Date, and information about CLICK's events it's clients can participate in
Purchasing Flow with CLICK
Cannabis D2C mobile app solution
With Shoutem and Ginger, get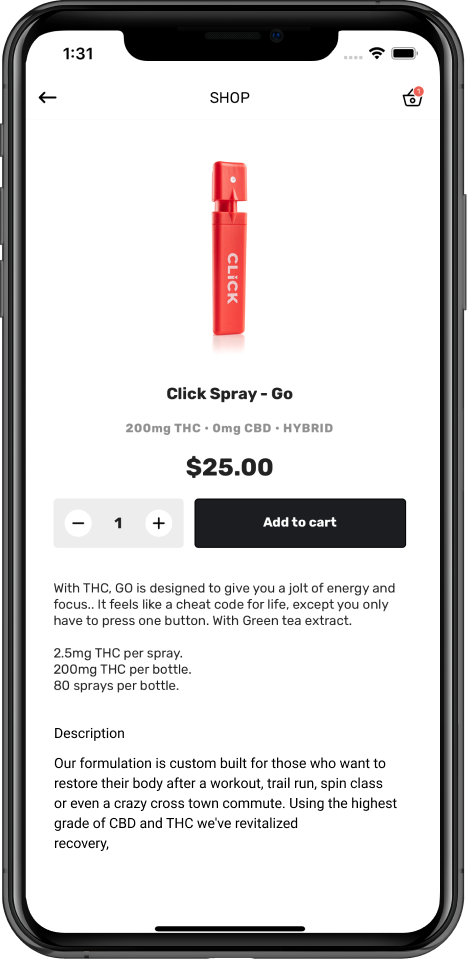 App Design

Creating user experience with easy app flow

Product Listing

Listing all your products just as same as at your website

Loyalty Rewards

Creating a system of loyalty points to collect rewards

Scheduled Delivery

Ordering system that will allow you a next-day delivery

App publishing

Preparing your cannabis app for both App Store and Google Play

App Growth

Important keywords, strong visuals and straightforward communication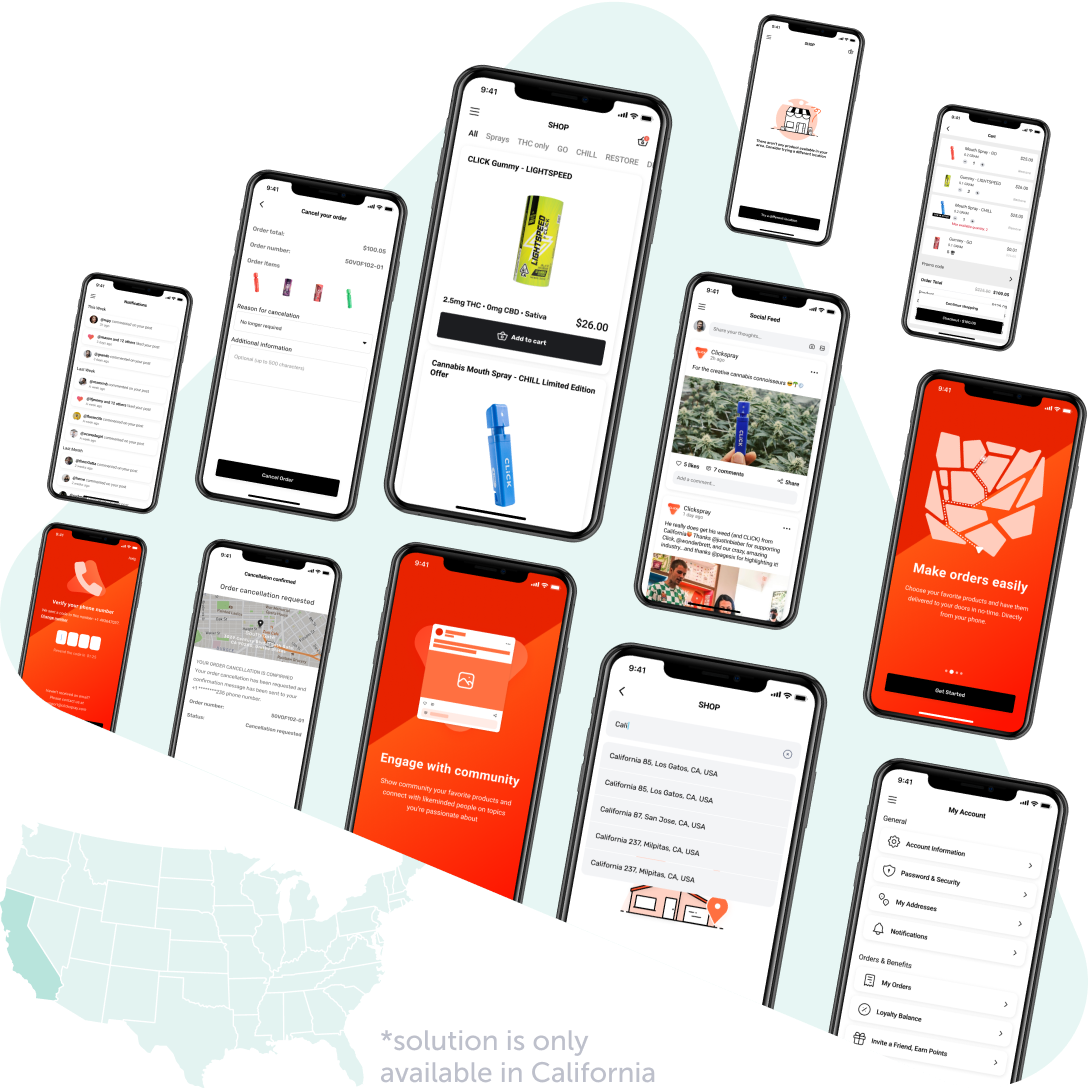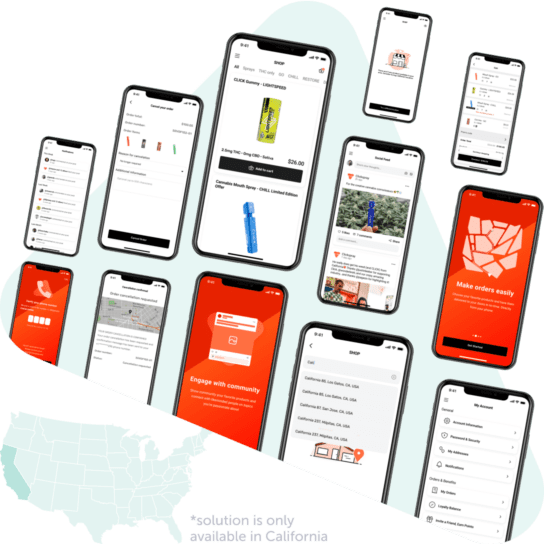 Success
Thank you for taking interest in our solutions. Our team will get in touch and provide you with further details on how Shoutem can help in bringing your brand and customers closer with mobile app.
Close
Subscribe to our newsletter
We'll send you creative inspiration, plus bussines insights and tips — written or curated by us, every other week.